News
Paramore's Hayley Williams Reveals Bloc Party Inspiration On New Album
James Wilson-Taylor
1 August 2022 at 09.04
The band are hard at work on the follow-up to 'After Laughter'
Paramore's Hayley Williams has revealed that Bloc Party have been a key influence on the band's upcoming new album.
In the latest episode of her 'Everything Is Emo' show on BBC Sounds, Williams spoke about the writing process behind their latest record and how they cited the UK act and their debut album 'Silent Alarm' as an inspiration.
This week's Everything is Emo is a love letter to British bands

Hayley Williams picks tracks from @wolfalicemusic, @foals, @ArcticMonkeys and more, with @BlocParty's Silent Alarm on shuffle

Which track is your favourite?

— BBC Sounds (@BBCSounds) July 29, 2022
"We started working on writing new material as a band over the last year and a half and I just want to say it, like I don't even feel like it really gives away very much. Bloc Party, from day one, talking about making music again, you know the three of us – Zac, Taylor and I – for Paramore, Bloc Party was the number one reference because there was such an urgency to their sound that was different to the fast punk or the pop punk or the like, loud wall of sound emo bands that were happening in the early 2000s"
She continued "They had their own thing and it was so unique and so dynamic, and it really stuck with us. And I'm really really thankful for this band, I'm so thankful that they're back, they're playing shows, they're putting out great songs, and it just makes me feel even more excited to get back out into the world, and maybe cross paths with the band that has been a huge part of our story from day one."
Paramore's sixth album will be their first new music since 2017's 'After Laughter' album which has since been certified Gold in the UK.
The band have also announced a series of intimate US tour dates this Autumn ahead of their headline appearance at the When We Were Young Festival in Las Vegas, alongside My Chemical Romance.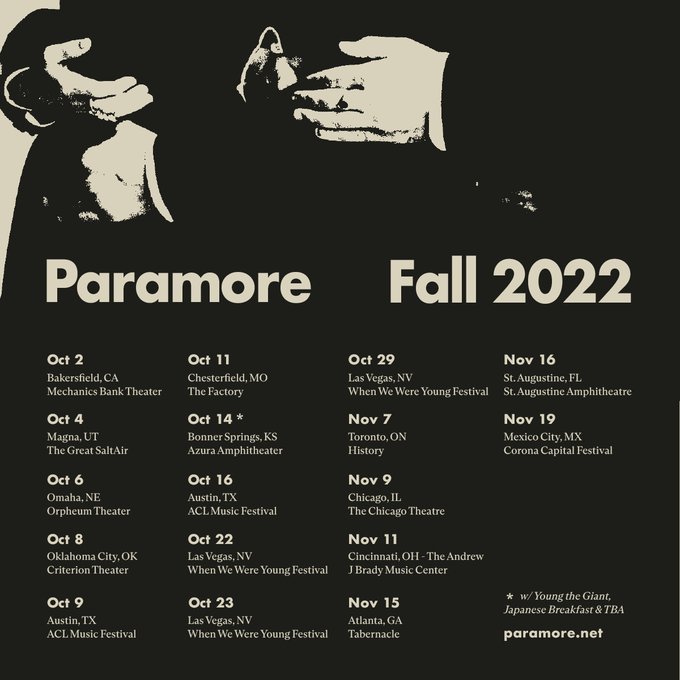 The dates look like this:

OCTOBER

02 - BAKERSFIELD Mechanics Bank Theater
04 - MAGNA The Great SaltAir
06 - OMAHA Orpheum Theater
08 - OKLAHOMA CITY Criterion Theater
09 - AUSTIN ACL Music Festival
11 - CHESTERFIELD The Factory
14 - BONNER SPRINGS Azura Amphitheater
16 - AUSTIN ACL Music Festival
22 - LAS VEGAS When We Were Young Festival
23 - LAS VEGAS When We Were Young Festival
29 - LAS VEGAS When We Were Young Festival

NOVEMBER

07 - TORONTO History
09 - CHICAGO Chicago Theatre
11 - CINCINNATI The Andrew J Brady Music Center
15 - ATLANTA Tabernacle
16 - ST. AUGUSTINE St. Augustine Amphitheatre
19 - MEXICO CITTY Corona Capital Festival
Tags: